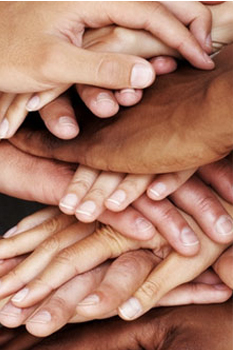 But none of these things move me; nor do I count my life dear to myself, so that I may finish my race with joy, and the ministry which I received from the Lord Jesus, to testify to the gospel of the grace of God. -Acts 20:24
EXECUTIVE PASTORS
The Executive Pastors oversee the administrative functions and overall vision of Covenant Life.
Senior Pastor – David Acosta
Pastor David Acosta is the founding pastor of Covenant Life Ministries.  He is the lead preaching pastor and oversees all sub-ministries within Covenant Life.
Associate Pastor – Carmen Acosta
Carmen Acosta is the co-founder of Covenant Life Ministries. She is the secondary preaching pastor and administrator of Covenant Life. She is the Founder of Ladies of Virtue.
MINISTRY DIRECTORS
The Ministry Directors lead and manage vital functions which are essential to the operation of Covenant Life.
Children's Co-Leaders - Sheilah Lowe and Yvonne Adorno
The Director leads and manages all class levels, teachers, teacher's assistants, and events pertaining to Covenant Kids Children's Ministry.
Youth Group Directors - Brandon and Lissette Abner
Brandon and Lissette lead and manage Redeemed World Changers Youth Ministry.
Welcome Team Directors - Jack and Mariel Torres
Jack and Mariel lead and manage all parking assistants, ushers, greeters and security personnel for Covenant Life Ministries.
Prayer Ministry Director – Edy Skovira
Edy leads a network of Christians dedicated to intercessory prayer.
Media Director - Silas Colon
Silas keeps services running smoothly by overseeing and making sure that band, video, audio, Media Shout, lighting, and stage are running properly and on time
Music Ministry Directors - Brandon Abner
Brandon is the lead pianis. He composes, orchestrates, sings and directs all vocalists.  He leads and manages the Good News People (CLM's music team).
Couple's Ministry Directors - Benny and Dawn Hatchett
Benny and Dawn lead, manage, and coordinate events for the Covenant Couple's Ministry.
Men's Ministry Director – Benny Hatchett
Benny leads, manages, and coordinates events for the Covenant Warriors m­en's ministry.
Women's Ministry Director - Pastor Carmen Acosta
Pastor Carmen is the founder, lead director, and voice for Ladies of Virtue. She coordinates and oversees all events for the Ladies of Virtue women's ministry.
Maintenance Directors - Silas and Laura Colon
Silas and Laura manage all volunteer schedules for the weekly cleaning of Covenant Life's facilities.
Activities Directors - Carmen Torres
Carmen leads, manages and coordinates church events to engage our congregation, neighborhoods and communities.
Bookstore Director - Jane Scarpetti
Jane oversees inventory, product sales, and manage volunteer staff for the Lighthouse Bookstore.
Operation Jireh Food Pantry - Jane Scarpetti
Jane oversees the ministry's food collection and distribution programs, fundraiser events and the food inventory. The Food Pantry is open every third Saturday of the month to feed people in the community that are in need.
Women's Prison Ministry Director - Velma Taylor
Velma manages the women's prison ministry schedule and oversees all prison visits.