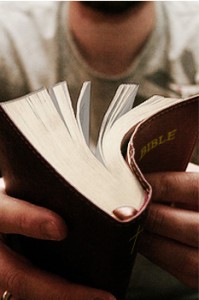 A BIBLE falling apart usually belongs to someone who isn't.—C.H. Spurgeon'
THE SCRIPTURES
We believe the Holy Scriptures of the Old and New Testaments were given by inspiration of God, and are the final authority for faith and life, inerrant in the original writings, infallible, and God-breathed (2 Timothy 3:16, 17; 2 Peter 1:20, 21; Matthew 5:18; John 16:12, 13).
GOD
There is but one God, the Maker, Preserver and Ruler of all things, having in and of Himself all perfections, and being infinite in them all; and to Him all creatures owe the highest love, reverence and obedience (1 Corinthians 8:6; Psalm 96:4; Psalm 145:3; Jeremiah 10:6).
THE TRINITY
God is revealed to us as Father, Son, and Holy Spirit – co-eternal in being, co-eternal in nature, co-equal in power and glory, each having distinct personal attributes, but without division of nature, essence, or being (Deuteronomy 6:4; 2 Corinthians 13:14).
PROVIDENCE
God, from eternity, decrees or permits all things that come to pass, and perpetually upholds, directs, and governs all creatures and all events; yet in no way is the author of sin nor to destroy the free will and responsibility of intelligent creatures (Daniel 4:35; Psalm 103:19; Psalms 115:3; Proverbs 16:4, 9, 33; Isaiah 14:24; lamentations 3:37-38; Ephesians 1:11;  Acts 2:23; Acts 4:28; Genesis 50:20; Hebrews 1:3; Psalm 3:5; Daniel 4:35; 1 John 1:5; James 1:13; Psalm 25:8, 34:8, 145:17; Romans 11:33-36).
CREATION
In the beginning God created all things through Jesus, with the Holy Spirit, and all things that exist visible and invisible in heaven and on earth were created by Him and for Him within six literal twenty-four hour days (Genesis 1:1; Exodus 20:9-11; Exodus 31:15-17; Isaiah 40:12; John 1:3; Romans 11:36; Hebrews 1:3; Colossians 1:15-17). God has shown forth His eternal power and divine nature in everything that He has made so that no man will have excuse for denying His existence (Romans 1:20).
SALVATION
We cannot merit eternal life by offering or bribing the Judge of the universe with a plea of forgiveness or of good works because it is an abomination to God (Proverbs 21:27). Salvation is of the LORD (Jonah 2:9). Salvation is the gift of God brought to man by grace through the Gospel and received by faith and proceeded by repentance unto the Lord Jesus Christ, whose precious blood was shed for the forgiveness of our sins (Romans 1:16; Ephesians2:8-10, John 1:12; Ephesians 1:7; 1 Peter 1:18-20).
THE FALL OF MAN
God originally created man in His own image, and free from sin; but, through the temptation of Satan, man transgressed the command of God, and fell from his original holiness and righteousness; whereby his posterity [i.e. descendants] inherit a nature corrupt and wholly opposed to God and His law, and became alienated from God, and are under condemnation; man is totally depraved and of himself utterly unable to remedy his lost condition. (Genesis 1:26-27; Romans 3:22-23, 5:12; Ephesians 2:1-3, 12)
PERSON AND WORK OF CHRIST
We believe that the Lord Jesus Christ, the eternal Son of God, became man without ceasing to be God, having been conceived by the Holy Spirit and born of the Virgin Mary in order that He might reveal God and redeem sinful man (John 1:1-2, 14; Luke 1:35). We believe that the Lord Jesus Christ accomplished our redemption through His death on the cross as a representative, vicarious, substitutionary sacrifice, and that our justification is made sure by His literal, physical resurrection from the dead (Romans 3:24; 1 Peter 2:24; Ephesians 1:7; 1 Peter 3-5). We believe that the Lord Jesus Christ ascended into heaven and is now exalted at the right hand of God where, as our High Priest, He fulfills the ministry as Representative, Intercessor, and Advocate (Acts 1:9-10; Hebrews 7:25; Hebrews 9:24; Romans 8:34; 1 John 2:1-2). We believe Jesus is coming again to judge the living and the dead (1 Peter 4:5; Romans 14:9; 2 Timothy 4:1).
PERSON AND WORK OF THE HOLY SPIRIT
We believe that the Holy Spirit is a person who convicts the world of sin, of righteousness, and of judgment; He is the Supernatural Agent in regeneration, baptizing all believers into the body of Christ, indwelling and sealing them unto the day of redemption (Matthew 3:11, John 16:8-11; Acts 1:8, 10:38; 2 Corinthians 3:6; 1 Corinthians 3:6; 1 Corinthians 12:12-14; Romans 8:9; Ephesians 5:18).
REGENERATION
Regeneration is a change of heart, produced by the Holy Spirit, who makes alive those who are dead in trespasses and sins, enlightening their minds to understand the Word of God, and renewing their whole nature, so that they love and practice holiness. It is a work of God's free grace (Ezekiel 36:26-27; 2 Corinthians 5:17; 1 Thessalonians 5:23-24).
REPENTANCE
Repentance is God's grace, wherein the Holy Spirit makes a person aware of the manifold evil of his sin, so that he humbles himself with godly sorrow, detesting sin, and repulsing the flesh, with a purpose and endeavor to walk before God so as to please Him in all things (Acts 5:31; Acts 11:18; Acts 16:14; 2 Timothy 2:25).
FAITH
Saving faith is the belief, on God's authority, of whatsoever is revealed in His Word concerning Christ; accepting and resting upon Him alone for justification and eternal life. Faith is a gift of God wrought in the heart of man by the Holy Spirit through hearing the Word of God, and is accompanied by all other saving grace, and leads to a life of holiness (Romans 12:3; Hebrews 12:2; Romans10:17; Ephesians 2:8-9; Hebrews 11:6; Hebrews 11:1).
JUSTIFICATION
Justification is God's gracious and full acquittal of sinners who no longer trust in their own goodness or good deeds, but who forsake their sins and believe in Christ as the atonement, in which Christ's righteousness is then imputed to their account (Romans 3:23-26; Romans 8:30; 1 Corinthians 6:11).
SANCTIFICATION
Those who have been regenerated are also sanctified by God's Word and Spirit dwelling in them. This sanctification is progressive through the supply of Divine strength, which all saints seek to obtain, pressing after a heavenly life in cordial [i.e., willing] obedience to all Christ's commands (1 John 15:4-5; Philippians 1:6; Philippians 2:12-13; Thessalonians 5:23-24).
PERSEVERANCE OF THE SAINTS
Those whom God has accepted in the Beloved, and sanctified by His Spirit, will never totally nor finally fall away from the state of grace, but shall certainly persevere to the end; and though they may fall, through neglect and temptation, into sin, whereby they grieve the Spirit, impair their graces and comforts, bring reproach on the Church, and temporal judgments on themselves, yet they shall be renewed again unto repentance, and be kept by the power of God through faith unto salvation (John 6:37-40; 10:27-30; Romans 8:1, 38-39; 1 Corinthians 1:4-8; 1 Peter 1:5). We believe that it is a privilege for believers to rejoice in the assurance of their salvation through the testimony of God's Word, which clearly forbids the use of Christian liberty as a reason to indulge in sin (Romans 12:13-14; Galatians 5:13; Titus 2:11-15).
THE MINISTRY AND SPIRITUAL GIFTS
We believe that God is sovereign in the bestowing of spiritual gifts (1 Corinthians 12:11). It is, however, the believer's responsibility to attempt to develop their sovereignty given spiritual gift(s) and use them with decency and in order, for the edification of the Church (1 Corinthians 14). The baptism of the Holy Spirit occurs at conversion and is the placing of the believer into the Body of Christ. We also believe that no one particular spiritual gift serves as evidence of a person being Spirit filled. The New Testament teaches that every believer in Christ has the Holy Spirit (Acts 2:38; Romans 8:9; 1 Corinthians 12:13; Ephesians 1:13-14; Ephesians 4:7-8). We believe that God does hear and answer the prayer of faith, in accordance with His own will, for the sick and afflicted (John 15:7; 1 John 5:14-15). We believe that it is the privilege and responsibility of every believer to minister according to the gift(s) and grace of God that is given to him (Romans 12:1-8; 1 Corinthians 13; 1 Peter 4:10-11).
THE CHURCH
We believe that the church, which is the body and espoused bride of Christ, is a spiritual organism made up of all born-again persons (Ephesians 1:22-23, 5:25-27; 1 Corinthians 12:12-14; 2 Corinthians 11:2). We believe that the establishment and continuance of local churches is clearly taught and defined in the New Testament Scriptures (Acts 14:27, 18:22, 20:17; 1 Timothy 3:1-3; Titus 1:5-11). We believe in the autonomy of the local churches, free of any external authority and control (Acts 13:1-4, 15:19-31, 20:28; Romans 16:1, 4; 1 Corinthians 3:9, 16; 1 Corinthians 5:4-7, 13; 1 Peter 5:1-4). We recognize believer's baptism and the Lord's supper as scriptural means of testimony for the church (Matthew 28:19-20; Acts 2:41-42; Acts 18:8; 1 Corinthians 11:23-26).
BAPTISM
Jesus commands that all of His disciples be baptized, baptism is a requirement for every believer, wherein he or she is immersed in water in the Name of the Father, and of the Son, and of the Holy Spirit, as a sign of his/her fellowship with the death and resurrection of Christ, of remission of sins, and of his/her giving themselves up to God, to live and walk in newness of life (Matthew 28:19; Acts 2:38, 10:48; 1 Peter 3:21). Baptism is a requirement for all Covenant Life members. We perform believer baptisms only, which means we do not baptize infants.
THE LORD'S SUPPER
The Lord's Supper is an ordinance of Jesus Christ, to be administered with bread and fruit of the vine, and to be practiced by His churches till the end of the world. It is in no sense a sacrifice, but is designed to commemorate His death, to confirm the faith of Christians, and the renewal of their communion with Him (Luke 22:14-20; Act 2:42; 1 Corinthians 11:26-28).
THE RESURRECTION
The material bodies of men after death return to dust, but their non-material inner man return immediately to God – the righteous to rest with Him; the wicked, to be reserved under darkness to judgment. At the last day, the bodies of all the dead, both just and unjust, will be raised (Ecclesiastes 12:7; 2 Peter 2:9; Acts 24:15).
THE JUDGEMENT
God has appointed a day, wherein He will judge the world by Jesus Christ, when everyone shall receive according to His deeds: the wicked shall go into everlasting punishment; the righteous, into everlasting life (Acts 17:31; Hebrews 9:27).
"Keep a close watch on how you live and on your teaching. Stay true to what is right for the sake of your own salvation and the salvation of those who hear you" —1 Timothy 4:16